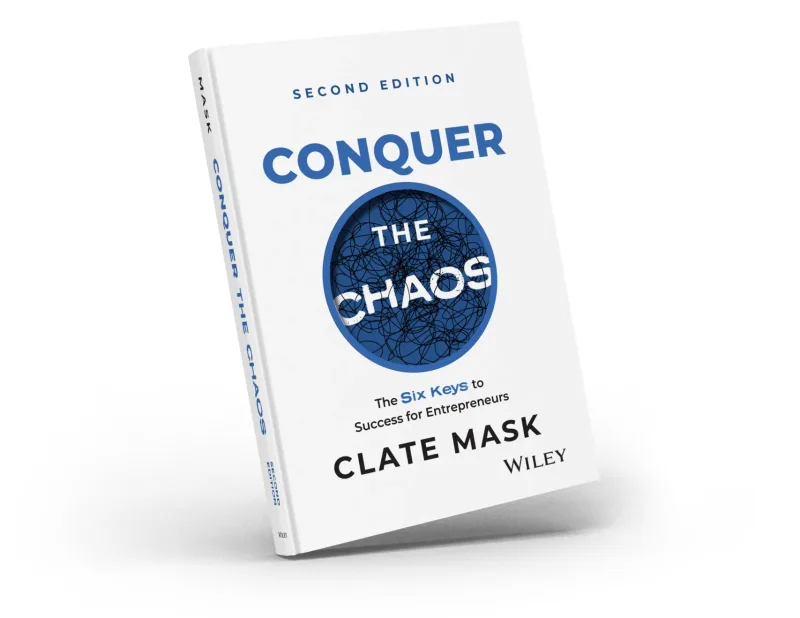 Strategies
for balanced
business growth
Gain the time, money and control to live life on your terms and enjoy building your business. Order the second edition of the bestselling book, Conquer the Chaos.
Available for pre-order now
Reviews
What readers say
Plenty of people offer business advice. Many of those who offer advice are professor-types who have never managed a team or navigated the real rapids of business success. If you want the real truth, the God's honest truth about how to succeed in business, this book will show you the way."
Donald Miller
Author of How to Grow Your Small Business

About the book
Discover a better
path to small
business growth
In this newly revised second edition of Conquer the Chaos, Clate Mask, co-founder and CEO of Keap, delivers another incisive roadmap to entrepreneurial success for small business owners.
The book offers six non-negotiable strategies for entrepreneurs, plus new stories highlighting small business leaders who have overcome the daunting challenges that accompany self-employment.
You'll also find:
A brand-new section on how to achieve better work-life balance using automation in your business
How to find more time, money and freedom in your entrepreneurial journey
Strategies to move beyond surviving as owner of your own business and begin growing and evolving
An extraordinary take on small business ownership and entrepreneurship from someone who's been on the frontlines of a growing company, Conquer the Chaos is a must-have resource for anyone hoping to get more money, more enjoyment and more flexibility in their life while growing their business.
Preview Chapter One
It is incredibly challenging to grow a successful business when the business dominates your life. The Lifecycle Automation method we've pioneered has been a total game changer for small businesses. The work-life balance techniques are critical for balanced growth, with business and personal success. The Leadership section comes from years of practicing and teaching a model that creates great results in great places to work. I'm excited to share important updates to the book that will be appreciated by original readers and new readers alike."
Clate Mask
Special Offer
Pre-order now for $200 off the Let's Grow Summit by Keap
Conquer the Chaos readers are invited to join us and connect with a community of small business leaders at the Let's Grow Summit by Keap! When you pre-order Conquer the Chaos, you'll receive an email with an exclusive discount code for Keap's annual conference this November in downtown Phoenix.
Learn more about the event