Home
Buzz
Read what others have said
Conquer the Chaos is sweeping the nation. Here are a handful of fantastic articles about Conquer the Chaos.
Support Conquer the Chaos
Spread the Word!
Share a recommendation on Twitter and Facebook.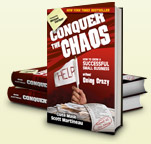 "This book will astonish you. It's real. And that's why it's so damn good."
— Michael Gerber, Author of The E-Myth
Are you living in chaos?
(and just don't know it)
The first book from the
co-founders of Infusionsoft
Conquer the Chaos
is a book designed for growth-minded entrepreneurs and small business owners. This
small business book
was written for small businesses who want to look at the example of Infusionsoft, a web-based software company and two experienced entrepreneurs. Conquer the Chaos is a brand new book taking the
small business world by storm.